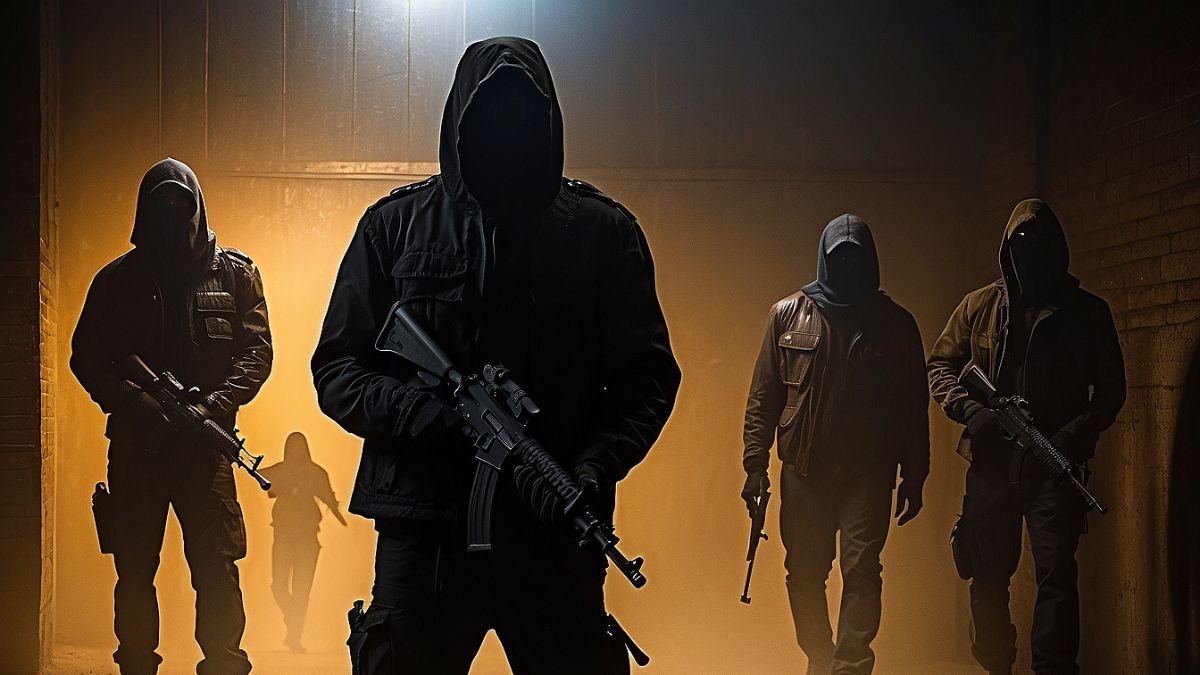 By Girish Linganna
On November 14, unidentified assailants fatally shot Maulana Raheem Ullah Tariq, a close associate of Jaish-e-Mohammed (JeM) leader Maulana Masood Azhar, in Karachi's Orangi Town. Multiple shots were fired at him by assailants who seemed to have prior knowledge of the neighbourhood. Tariq was en route to deliver a speech at a gathering in opposition to India and Kashmir at the time of the attack.
This incident signifies the occurrence of the third prominent assassination of a terrorist with ties to India this month. In a preceding development, a Lashkar-e-Taiba (LeT) commander, Akram Ghazi, was assassinated in the Khyber Pakhtunkhwa province of Pakistan. Additionally, Khwaja Shahid, a key figure in the 2018 Sunjuwan terrorist operation in Jammu and Kashmir, was kidnapped and subsequently discovered beheaded near the Line of Control in Pakistan-occupied Kashmir.
In recent times, assassinations have been directed at prominent individuals. Between 2018 and 2020, Akram Ghazi was a leading recruiter for the LeT, where he was accountable for the radicalisation of a significant number of terrorists who had infiltrated the Kashmir Valley in the preceding two years. At the same time, Tariq was recognised as a close associate of Masood Azhar. Ghazi was fatally shot by motorcyclists in the Bajaur district. LeT commander Riyaz Ahmed was assassinated in September in Rawalakot, Pakistan-occupied Kashmir, near the Al Quddus Masjid. Ahmed oversaw the recruitment and operations of Lashkar in the region. Unidentified assailants fatally shot Paramjit Singh Panjwar, the Khalistan Commando Force chief and a wanted terrorist, in May as he strolled along a morning path near his Lahore residence.
Mufti Qaiser Farooq, a LeT agent who was fatally shot in Gulistan-e-Jauhar, Karachi, and Maulana Ziaur Rehman, an operative who was shot at a seminary in Gulshan-i-Umar, are two additional individuals who have been assassinated in the last month. Shahid Latif, the Fidayeen squad's chief handler and a JeM terrorist who led the 2016 assault on the Pathankot airbase, was also murdered on October 10 by unidentified assailants in a mosque in Sialkot, Pakistan.
This year in Pakistan, additional anti-India terrorists have been assassinated. Abu Qasim, also known as Riyaz Ahmad, was a senior leader of the terrorist organisation Lashkar-e-Taiba. He was a principal conspirator in the Dhangri terrorist attack of January 2023. On January 1, fourteen individuals were injured, and seven were slain when terrorists attacked the village of Dhangri in Rajouri. Riyaz Ahmad, a crucial suspect in the terror case, was fatally shot inside the Al-Qudus mosque in Rawalkot, Pakistan-occupied Kashmir, in September.
As a commander of the Hizb-ul-Mujahideen terrorist organisation, Bashir Ahmad Peer oversaw the infiltration and recruitment of armed terrorists in Jammu and Kashmir. Earlier this year, he was murdered outside a shop in Rawalpindi by unidentified assailants.
Unidentified assailants fatally shot Syed Khalid Raza, the leader of the Pakistan-based terrorist organisation Al-Badr's, in Karachi in February of this year.
Mistry Zahoor Ibrahim, one of the hijackers on Flight IC 814 of Indian Airlines, was killed in Karachi, Pakistan, by assailants mounted on bicycles. Mistry Zahoor Ibrahim was one of the five hijackers responsible for the December 24, 1999 flight of IC 814 to Kandahar, Afghanistan.
In May of this year, Khalistan Commando Force (KCF) chief and designated terrorist Paramjit Singh Panjwar was fatally shot by two unidentified assailants in Lahore, Pakistan. Paramjit Singh Panjwar played a pivotal role in the revival of the Sikh uprising. His apprehension included charges of homicide, abduction, and the illicit trade of weapons and drugs.
Mohammad Darji, also known as Laal Mohammad (55) and an agent of Pakistan's Inter-Services Intelligence (ISI), was fatally shot on September 19 outside his hideaway in Kathmandu, Nepal. According to intelligence authorities, Laal Mohammad was the largest provider of ISI counterfeit notes in India.
The list would be incomplete if we didn't mention the diplomatic row between India and Canada over the shooting of Hardeep Singh Nijjar, who was branded a terrorist by India in 2020; he was shot dead outside a gurdwara in June in Canada's Surrey by two unidentified gunmen. According to law enforcement, Nijjar was actively involved in recruiting and training members of the proscribed terrorist organisation Khalistan Tiger Force (KTF). He also belonged to the separatist organisation Sikhs for Justice (SFJ).
Who Exactly Is Taking The Lives of These Terrorists Who Are Opposed To India?
Foreign Ministry spokesperson Mumtaz Zehra Baloch informed reporters in the capital, Islamabad, on October 20 that India's external intelligence agency R&AW (Research and Analysis Wing) has continued to conduct "targeted murders and espionage" against Pakistan. She further stated that in December of last year, Pakistan published an extensive compendium containing conclusive and empirical proof that India was responsible for an assault in June 2021 in the northeastern city of Lahore.
The assault, attributed by Islamabad to an Indian intelligence agency, purportedly had the intention of terminating the life of Hafiz Muhammad Saeed, the detained leader of the proscribed Jama'at-ud-Dawah organisation.
Hafiz Saeed, leader of Jamaat-ud-Dawa and mastermind of the Mumbai attacks, escaped an explosive explosion near his Lahore residence in June 2021. Some police officers stationed at a checkpoint adjacent to Hafiz Saeed's residence were among those injured in the strong explosion. Saeed was not in his residence when the explosion occurred.
Additionally, his son, Talha Saeed, managed to evade a suicide attempt. An explosion occurred on or around the location where principal guest Talha Saeed was scheduled to attend a religious conference in 2019. Maulana Masood Azhar, the progenitor of the Pakistan-based designated terrorist organisation Jaish-e-Mohammad, orchestrated numerous terrorist assaults against India, such as the Uri, Pathankot, and Pulwama attacks, among others. Azhar sought sanctuary in a madrasa situated in Peshawar after the Indian military targeted Jaish-e-Mohammad compounds in Balakot in February 2019. However, two months later, Masood Azhar narrowly escaped death when an explosion rocked the very ground where he had sought refuge. Subsequently, the terrorist mastermind has eluded public appearances.
Pakistan has previously levelled accusations against RAW regarding such activities. During the mid-1980s, RAW established two covert operations teams: Counter Intelligence Team-X (CIT-X) and Counter Intelligence Team-J (CIT-J). CIT-J was specifically tasked with monitoring Khalistani groups, while CIT-X was more broadly focused on Pakistan. As a result of CIT-J's activities, the Pakistani Inter Service Intelligence (ISI) chief vowed to refrain from operations in Punjab so long as India kept CIT-J in check. On moral grounds, Prime Minister I.K. Gujral shut down both CITs directed at Pakistan in 1997.
Pakistan, on the other hand, has never ceased to accuse RAW of sowing unrest within the nation. The Pakistani Interior Minister attributes terror attacks in Balochistan to the RAW of India in October. Nonetheless, the Pakistani security forces attribute the recent incidents to intragroup and intergroup rivalries. In the last 20 months, 19 people who were associated with anti India activities in Pakistan have been killed, but the truth about these killings might not be known for a while.
(The author of this article is a Defence, Aerospace & Political Analyst based in Bengaluru. He is also Director of ADD Engineering Components, India, Pvt. Ltd, a subsidiary of ADD Engineering GmbH, Germany. You can reach out to him at: girishlinganna@gmail.com)