Pakistan's air force (PAF) which maintained a ratio of 3:1 aircraft kills against India in the 1965 war (Thomas M. Leonard (2006). Encyclopedia of the developing world. Taylor & Francis. pp. 806), is now much inferior to the world's fourth-largest Air Force after the induction of Russian SU-30 MKI- the backbone of IAF and lacks the race even more after addition of Dassault Rafale in the Golden Arrows Squadron based in Ambala.
PAF tried to attack military installation in the broad light just the day after the Balakot strike i.e 27 Feb 2019 ( operation swift retort) which failed in it's mission, but such a quick response was not expected by anyone. The attacking team of PAF had
8 x F-16 9 sqn
4 x F-16 29 sqn
8 x JF-17 CCS
4 x JF-17 16 sqn
4x Mirage 15 sqn
1 x Saab ERIEYE 3 sqn
1 x DA-20 24 Sqn
The offensive team includes 12 x F-16 A, 12 x JF-17 Block I/II, and 4 x Mirage III/ V plus the reserve.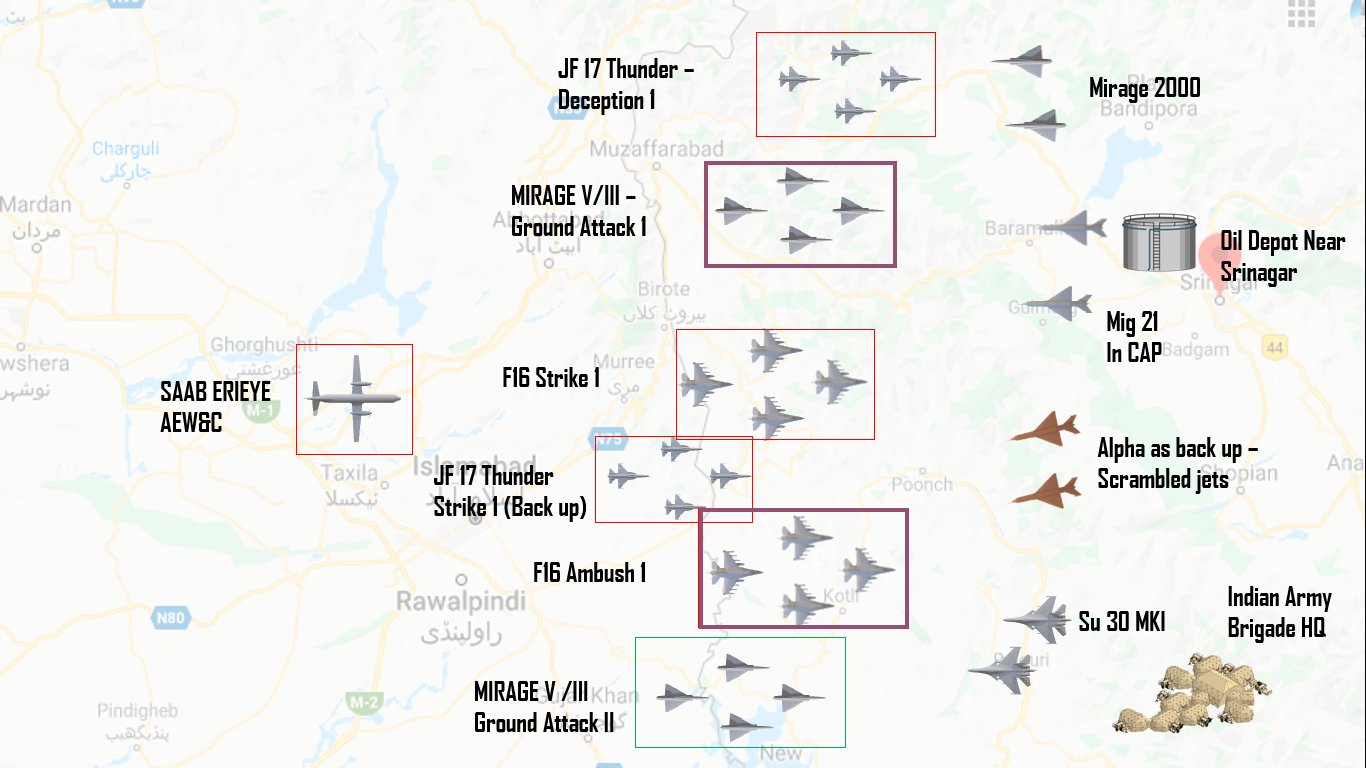 The F-16s were not able to shoot SU30 MKI with American AIM-120 but the communication between the Indian fighter jets was lost with AEW&C, here comes the role of PAF DA-20 Falcon which jammed the Mig 21 communication. The SAAB ERIEYE (AEW&C) also played a major role in giving locations coordinates to the striking team of PAF.
The conclusion of the above paragraph is that the biggest threat to IAF is not the F-16s or JF-17s, its the AEW&C and the EW (electronic warfare ) based aircraft.
Electronic Warfare Aircraft
Pakistan Airforce uses Falcon DA-20 aircraft which is a French business jet, developed by Dassault Aviation in the mid-60s. In 1987 PAF equipped two DA-20 aircraft with an electronic warfare suite, tasked with providing ESM (electronic warfare support measures) and ECM (electronic counter measures) and to support other PAF squadrons. Electronic warfare missions provide data that is analyzed by EW (electronic warfare) officers to compile an enemy's electronic order of battle and evaluate their tactics. India doesn't posses any dedicated EW aircraft, IAF aircraft depend on jammers for protection which are usually heavy and reduces the range and weapon capacity of an aircraft but the induction of Rafale with its powerful SPECTRA EW suite will fulfill this need to some extent, the integration of SDR ( software define radio) will also help in safe and secure communication. Pakistan currently operates 3 such aircraft.
AEW&C : Eye in the Sky
Another field in which PAF is not ahead but is at the same of mighty IAF is the AEW&C (Airborne early warning and control system) .
The basic role of an airborne early warning and control (AEW&C) system is to detect aircraft, ships, and vehicles at long ranges and perform command and control of the battlespace in an air engagement by directing fighter and attack aircraft strikes. AEW&C units are also used to carry out surveillance.
India posses the NETRA aircraft built by the DRDO on the airframe of Embraer ERJ-145 which provides the 240-degree coverage currently only 3 units of NETRA are operated by IAF. This platform is very similar to the PAF Erieye SAAB 2000 developed by Swedish company SAAB. This system has a range of around 425-450 Km. Pakistan received its 4th system in May 2020, one unit of these platforms was used in Operation Swift retort. Pakistan also uses Chinese SHANXI ZDK-03 another AEW&C based on the model of Y-8 transport aircraft. To counter the increasing number of such systems that can act as a force multiplier and can play a crucial role in the battlespace, India will also add two more PHALCON AWACS which is based on Russian Il-76 transport aircraft with Israeli EL/W-2090 radar in the future. Currently, 3 such aircraft are in use.
Further Developments Needed
The need for SDR and datalinks for safe and universal communication is urgent as the assets of the different countries can't communicate with equipment of other different nations e.g Russian aircraft can't communicate/talk to American Aircrafts.
Induction of more AEW&C, as India has to prepare itself for a two-front war, and currently PAF has twice the number of such platforms than IAF.
Acquiring a dedicated system for SEAD (suppression of enemy air defence) and DEAD (destruction of enemy air defence) missions will boost the power of the air force and will increase the probability of mission success.
SEAD and DEAD are usually the military operations performed to suppress the enemy based air defense including surface to air missiles, early warning radar, and the command control center by destroying them physically or electronically. India also tested its NGARM (New Generation Anti-Radar Missile) which was tested from SU30 MKI in Jan 2019. China also uses J-16 D aircraft for this purpose.