Introduction
We all are fascinated by the spy thriller movies and stories of our times. The lives of the spies are always a mystery for us to know, something for which we always remain curious. Today we are going to explore one such story. Story of an organisation, a premier military intelligence organisation within Indian Army- the TSD a.k.a. Technical Support Division.
We will not only talk about the bright achievements of the organisation but also the darkest controversies related to it. We will also discuss that how it catered various internal and external security issues and also how it succumbed to the politics of some senior lobbyist bureaucrats, army officers and politicians. How the head of the organisation Col. Hunny Bakshi and his teammates were made to suffer just for doing the job properly, risking their own lives.
Formation- Causes and the Course
Let's start the story by looking into what prompted to creation of Technical Support Division, provided that different internal and external intelligence services were already in place along with a military intelligence unit working under Army separately.
In aftermath of 26/11 Mumbai terrorist attacks- one of the most dreaded terrorist attacks in the history of India – everyone right from the state police to the central agencies were caught off guard. There was a thought that came at the top leadership that our existing intelligence system is not sufficient. Col. Hunny Bakshi in one of his interview said that PM was very shattered and perturbed. The National Security Advisor, MK Narayan, talked and asked to each of the intelligence chiefs whether they can do something to the terror camps and the masterminds behind the 26/11 terror attacks, which were located outside the country. The response to the NSA for this was negative. The NSA then asked the then Army Chief General Kapoor to raise such a unit.
The Directorate General of Military Intelligence(DGMI) made the bid to create a nearly self sustaining unit which will be gathering and decoding the information and can also do the tasks and swift actions as, when and where required. But as usually happens in our country, this was also put on the back burner after sometime.
As and after the announcement of new chief happened; the then DGMI Lt. Gen. R.K. Loomba presented this to the new Chief of Army staff Gen. V.K. Singh in 2010. Gen. Singh gave his go ahead and asked Lt. Gen. Loomba to form his team. This team or squad was named as TSD-Technical Support Division. Funds to it were sanctioned from the secret services fund. The office of TSD happened to be a two storyed building in the Delhi Cantonment.
The Team – Who were the Bravehearts?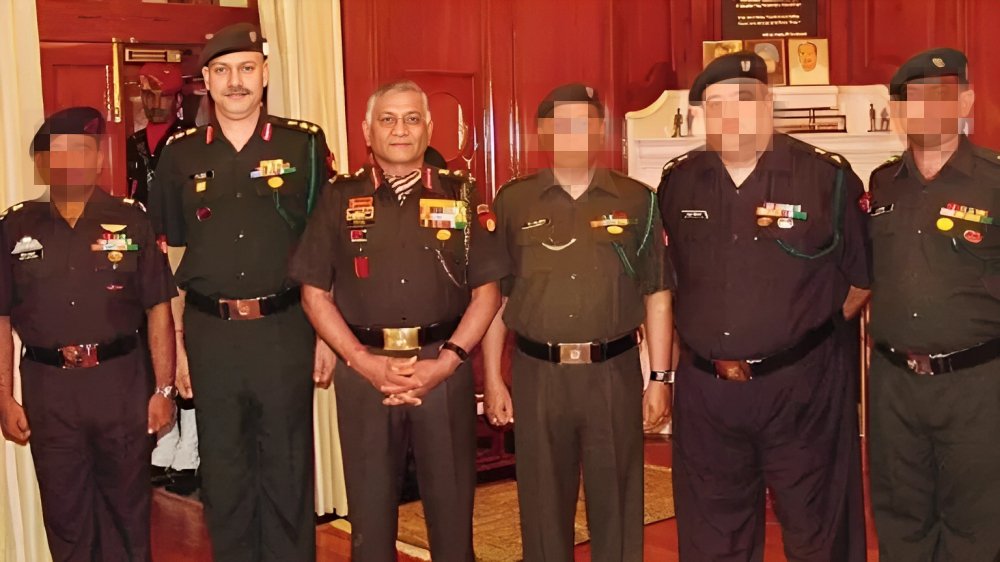 Lt. Gen. Loomba picked Col. Hunny Bakshi as the commander of the TSD. Col. Bakshi was one of the finest Intelligence Officer of the army at that moment. He was that bright that he got into DGMI directly from the Indian Military Academy. He is brilliant spy officer who has worked both in Northern and Eastern sectors. In an interview Col. Bakshi hinted that his name might have been suggested directly by the National Security Advisor as he was very much involved in the information and evidence gathering after 26/11 attacks. He provided evidences which made the Pakistani hands clearly visible in the 26/11 attacks.
Col. Bakshi after this was given a full liberty for choosing his team though he was provided with an officer and two other ranks. With that small team of four members TSD has achieved it's first task by Nov, 2010 of containing stone pelting and bandhs that started getting a surge in the Valley.
By Feb, 2011 the team of TSD was finally assembled. Including Col. Bakshi, the unit has 6 officers and some more than 30 JCOs and other ranks. Officers other than Col. Bakshi included:
Lt. Col. Vinay B. a.k.a Birdie. He was serving in R&AW on deputation at that time. He was doing covered activity in China. He had deep enroutes in both Northern and Eastern sectors.
Next was Lt. Col. Zir. He was also in R&AW on deputation at that time. He had wide network in terror groups in North East. He was the key in bringing the Dima Halim Daogah or DHD to cease fire in Assam. He also worked on arm smuggling and helped intersecting many consignments.
Next was Lt. Col. Sarvesh, a veteran skydive having 3000+ jumps under his badge. He also have worked in Special Action Group (SAG) of National Security Guards i.e., NSG and commanded a company in Kargil war.
Lt. Col Alfred B was the fourth one. He was a seasoned negotiator. He had created several assests in the NortheEast insurgent groups. His assets in the ULFA(United Liberated Front of Assam) later helped in persuading the ULFA leadership to come to a truce.
The last was Lt. Col. Anurag a.k.a Naughty. He was a surprise pick for many others but not for Col Bakshi . He knew that this overweight and diabetic spy is a master in cultivating assets in any insurgent or terrorist group. He helped Army in identifying the ground masterminds behind the increased stone pelting in Kashmir in summers of 2010.
Mandate and Achievements of TSD
The TSD was supposed to be raised as a strategic force multiplier for planning, preparing and executing special operations deep inside the territories/countries of interest and countering enemy efforts within that country by effective covert means. The mandate of TSD however officially was a top secret as the covert operations by India stopped formally after the Prime Minister I.K. Gujral shut it down in 1997.
However, Hindustan Times, through its sources, got a file from the defence ministry which does talk about a similar organisation to be formed. The file was file number A/106/TSD and 71018/MI . It gives the details of formation of an organisation which will enable the Military Intelligence Directorate to provide a quick response to any act of State sponsored terrorism with a high degree of denaibility. Though the operations done by TSD are top secrets and they are never been claimed or discussed, still some operations find their names flying in the air. One such was in an ISI office in Faisalabad, Pakistan. TSD carried operations both for internal and external security. Other operations whose names often come in discussion are operation Rehbar 1,2&3 in Kashmir ; operation seven sisters in NorthEast and operation Deep strike in Pakistan.
Controversies
TSD faced many controversies starting from the year of 2012. This includes allegations of paying around a crore rupees to a Jammu and Kashmir minister to toppel the government of Omar Abdullah, the then CM ; paying a proxy to stall General Bikram Singh's promotion; misuse of funds etc. These all informations are available on different sources in bits and pieces. When we collected all the pieces and added some new dots like bits from the TSD chief Col. Bakshi's different interviews and the writings, a proper story came up. The allelegations which ultimately led to disbandment disbandment disbanding of the TSD were result of politics both inside and outside the Army. During the tenure of Gen. V.K. Singh as chief of the army staff in 2010, once a Lieutenant General, named Tejinder Singh approached the COAS with a bribe of ₹14 crore for purchasing of Tatra trucks. According to Gen. V.K. Singh these trucks were of poor quality, refurbished and overpriced. So Gen. Singh not only stalled the procurement process but also complained about this gentleman.
In a podcast Col. Bakshi told about this. According to him, General V.K. Singh knew that this person is about to become head of NTRO- another intelligence organisation. He also got to know that this person might turn rogue as he is corrupt. He shared this with Colonel Bakshi, and so in order to get his posting stalled or postponed, Col. Bakshi dug deep into this person and found that this Lt. Gen. was also involved into the infamous Adarsh Society Scam. The papers were accessed by Col. Bakshi and information of the same was circulated in the circles where required.
Due to all this, though the posting of this Lt. Gen. got stalled as NTRO chief but in the due course of things Gen. V.K. Singh, Col. Hunny Bakshi and TSD came into the radar of the beurocratic lobby of the Lutyens and the brokers of arm deals. This is how the TSD came under attack. The bollywood movie named Aiyaari is also loosely based on this incident.
In May 2012, Gen. V.K. Singh retired, the men in TSD faced the real wreath after this. The unit was viratually disbanded by the next chief, Gen. Bikram Singh, as everyone from the unit was sent on to punishment postings and no new recruits added to the same. A glorious unit thus got such an abrupt and shocking end. The files and equipments related to the TSD were destroyed.
These officers who left no stone unturned, even risked their own lives at times were now left onto punishment postings with further witchhunt was to follow. Col. Bakshi was posted as a Colonel Quatermaster in Ladakh where he has to keep records of shoes and jackets of the soldiers. Such a superb intelligence officer has given literally no role on Sino-Indian Borders. Even after this, the hostility of seniors hurt colonel so much so that he has to undergo a psychiatric treatment in the Base Hospital Delhi. Other than Col. Bakshi, all other Lieutenant colonels of TSD were given similar jobs like NCC trainer, polyclinik manager etc. The TSD chief Col. Bakshi also later underwent a Court of Enquiry for his course of actions as the commander, TSD.
These officers and jawans give their lives to the country. Their families and even personal lives did not mattered to them. Two of the TSD chaps got divorced during the duty as they were not able to give time to the family. But what they got in return? The immense humiliation and mental trauma and that too because they stood for the right cause.
The Vice Chief of Army Staff, Lt. Gen. DS Thakur, while appearing as witness in Col. Bakshi's Court of Enquiry, said that- " It is sad to see that the witch hunt against intelligence Corp officers, who put their careers and lives on the line and took grave risk in conducting these operation in the service of nation, still continues. This will cause damage to overall morale and effectiveness of our intelligence corps."
Had TSD not been disbanded, India could have averted the Pathankot, Uri and Pulwama terror attacks. But the politics ate up such an efficient organisation, to the bad luck of the country.
Finally in March 2018 all charges against Col. Bakshi were dropped. But in the due course it not only ruined an efficient unit and some brilliant men but also it ruined the morale and risk taking ability of several future officers. Many of TSD officers are today enjoying their post-retirement lives but the scar on their hearts could possibly never be removed. We at Defence XP, wish that the systems of the pious organisation i.e., Indian Army, should be put in place in such a way that repetition of any such incident does not happen ever again.
Jai Hind.