You, people, must know, that this 15th or 16th June will be the 2nd anniversary of the Galwan clash, where 20 brave soldiers including the CO of 16 Bihar, Col Santosh Babu of the Indian Army sacrificed their lives in fighting the Chinese. In this article, we will be discussing the causes of the galwan clash and what has changed since the galwan clash.
Chinese Intrusion And Galwan Clash
In early May Chinese made fresh intrusion inside LAC and occupied heights at Depsang plains, Galwan, Gogra, Hot Springs, North bank of Pangong Tso, Kailash range, and Demchok. According to some experts, the reason for the Chinese intrusion was India's rapid development of roads and military infrastructure around LAC. Around the end of 2019, India completed the Darbuk-Shyok-Daulet Beg Oldi road. which connects Leh to the Karakoram Pass. India also maintains a key landing strip at DBO at 16,000 feet. India was rapidly closing the gap with China in terms of infrastructure, where China enjoys an advantage over border infrastructure. To obstruct border infrastructure up-gradation activity by India, China tried to pressurize India by opening up a fresh conflict. Experts on Chinese foreign policy even argue that China's aggressive posture towards India was to divert attention from the domestic economic crisis towards a nationalist sentiment.
Galwan Clash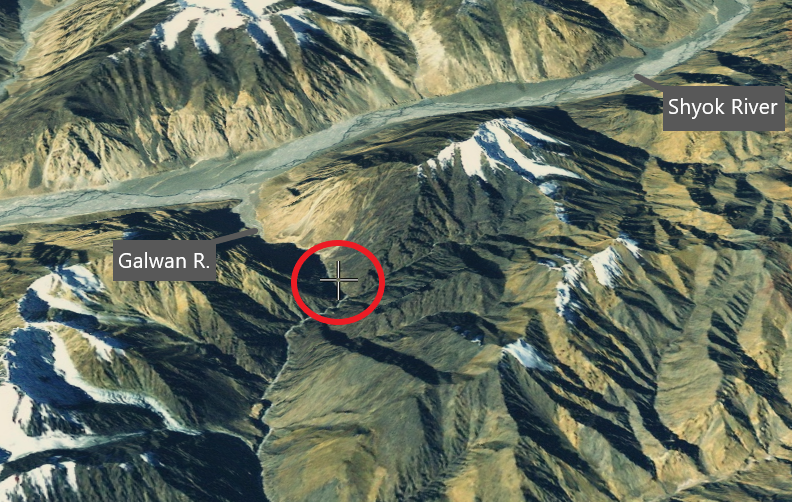 On June 6 during the corps commanders-level talks it was decided that there will be a phased withdrawal of troops to their respective predetermined ground positions. 50 soldiers led by Col Santosh Babu, went to check whether the Chinese have pulled back or not, but when he learns that they haven't, Col Santosh Babu Confronted the Chinese troops and ask them to leave according to the plan, but the Chinese refused to pull back, this forced Indian Soldiers to remove tent forcefully, resulting in hand to hand fight between two, that turns into a 7-hour violent clash. Chinese used protective gears like riot protective gears, used nail stubbed clubs, and iron rods to attack Indian soldiers. In the clash Col Santosh Babu and two other soldiers got killed, after getting news of their CO's death, reinforcements come with the Ghatak platoon to seek avenge of death of their CO. A subsequent clash between the two resulted in the death of 20 soldiers on the Indian side, and the Chinese lost 4 soldiers(LoL!) according to their official sources. But in reality, they lost more than 40 Soldiers, as confirmed by various other News outlets. Some news outlets had reported that China have buried their soldiers in the Karakoram hill region, adding to it, they reported that China has arrested a blogger who visited this war grave.
Prime Minister Narendra Modi's response to the sacrifice of 20 Brave Indian soldiers said that India wants peace but if provoked India is capable of giving a befitting reply to China. Both sides Meet at the level of Major Generals of both armies at the Patrolling Point 14, following the clash, which brought the situation under control.
But Why Indian Soldiers Did Not Carry Any Weapons
This is because of multiple agreements signed between both countries to maintain peace and tranquility at the border, and peaceful resolution of any dispute in case of border skirmishes. Both sides are obliged to not use any sort of weapon and are bound to adhere to the agreement. In this regard three agreements were signed, one in 1996, the other two in 2005 and 2013.
1996 Agreement
The 1996 agreement is on Confidence-Building Measures in the Military Field along the Line of Actual Control in the India-China Border Areas.
Article VI (1) of the 1996 agreement says "With a view to preventing dangerous military activities along the line of actual control in the India-China border areas… Neither side shall open fire, cause bio-degradation, use hazardous chemicals, conduct blast operations or hunt with guns or explosives within two kilometers from the line of actual control. This prohibition shall not apply to routine firing activities in small arms firing ranges."
However, it is Article VI (4) that is more applicable in the current instance: "If the border personnel of the two sides comes in a face-to-face situation due to differences on the alignment of the line of actual control or any other reason, they shall exercise self-restraint and take all necessary steps to avoid an escalation of the situation. Both sides shall also enter into immediate consultations through diplomatic and/or other available channels to review the situation and prevent any escalation of tension."
2005 Agreement
In Article 1: "the two sides will resolve the boundary question through peaceful and friendly consultations. Neither side shall use or threaten to use force against the other by any means".
The 2013 Agreement on Border Defence Cooperation also stated that neither side shall use its military capability against the other.
Chinese Propaganda During Standoff With India
Everybody knows the history of the Chinese to hide its battle causalities, they did the same when galwan happened when the Indian Army inflicted severe damage to the Chinese army causing the death of more than 40 Chinese soldiers. Though there is no bigger shame than not honoring the soldier who laid his life for the sake of his country. China and its iron brother must have mastered their ability to hide their causalities. In these efforts, china released of series of propaganda videos, published articles, censored news, and clamped down on those who sought truth. But many international media outlets have reported Chinese suffered heavy casualties in the clash. American intelligence claimed 20–35 Chinese got killed, as per TASS, a Russian state news agency at least 45 were killed, and at least 41 fatalities as per the Klaxon, an Australian investigative newspaper.
Also Read, China Soldiers Loss In Galwan Clash 9 Times More Than Official Count
China claimed they hosted a flag in Galwan but they did on their side of LAC, countering this Indian Army-hosted flag in the Galwan area. On Martyr's Day, Chinese western theatre command released propaganda video honoring those who died in the clash, for these videos they hired professional actors. Chinese also released another propaganda video which they shot near galwan valley hinting to their population that the galwan region is in their control, but this propaganda was busted by the army when it took Twitter posting images of Indian soldiers hosting tri-color Near LAC, Indian officials confirmed that Chinese were well within their territory.
Repeated propaganda on Galwan, was to cover the bravery(Sarcasm) shown by their soldiers (to hide their setback). Apart from these, they also tried psychological warfare to shatter the morale of our troops, like using inflated balloons depicting Air defense systems, conducting military exercises, projecting the capabilities of their armed forces and its assets in an overhyped manner, and renaming villages on Arunachal Pradesh, as they did with 15 villages of Arunachal Pradesh. But all this propaganda went in vain it did not affect the morale of our troops, our soldiers stood strong against the Chinese aggression.
What Has Changed

Since Galwan Valley Clash?
On Military Front
Current Situation In LAC
The two sides have held 15 rounds of talks since the standoff began in May 2020, with disengagement on both sides of the Pangong Tso (lake) in February 2021, and from Patrolling Point 17 in the Gogra area in August, in addition to Galwan in 2020 after the brutal clash. Despite being talks, still both sides have around 60k troops across the border. On the last 15th meeting held on May 30, officials agreed to continue talks on the next 16th round.
| | |
| --- | --- |
| Location | Disengagement |
| Ladakh | Underway |
| Pangong Tso | Frontline troops disengagement completed in March 2021 |
| Galwan | Limited localized disengagement in June–July 2020 |
| Hot Springs | Limited disengagement complete at some locations starting June–July 2020[ |
| Gogra | Disengagement in August 2021 in Patrolling Point 17 |
Chinese had to retreat humiliatingly after destroying their own defences, but it has exposed the severe limitations of the PLA in higher altitudes. When India Occupied Kailash Range and heights above Finger 4, there was no counter by the PLA due to its limited capability at high altitudes.
India decided to ramp up its infrastructure, GoI has moved approximately 12,000 additional workers to border regions to help complete Indian road projects, these workers would help BRO infrastructure project, Project Vijayak, in Ladakh while some workers would also be sent to other nearby border areas. The government announced up to a 170% increase in minimum wages for those working along the India-China border.
India has also increased surveillance along the border, surveillance equipment has been installed along the LAC, and in October 2021, environmental clearance was given for the construction of new border outposts, including at locations where tensions with China have increased and also widening border roads leading to the border.
There have been talks going on between the corps commanders of both armies, in order to de-escalate the situation across the border, but it has been clearly stated by top Indian Army officials there will be no compromise made regarding the territorial integrity of the country.
On Political Front
India is constantly engaging with China to de-escalate the situation at the borders at political, diplomatic as well at the military levels.
India is engaging extensively with Quadrilateral Initiative-the US, Japan, India, and Australia, there has been so far two in-person quad summit that our prime minister has attended, and it shows the commitment of QUAD members towards countering China.
There is an effort to expand Quad to convert it into Quad-Plus is to include South Korea, Vietnam, the Philippines, Singapore, and Indonesia. India also individually expanded its defence cooperation with these countries, for example, the sale of Brahmos to the Philippines.
India and Australia signing the two important military pacts- Australia-India Mutual Logistics Support Arrangement and the defence Science and Technology Implementing Arrangement- are significantly considered the first step in the deepening of the defense relationship between the two countries who share the same concern when comes to China's expansionism.
Conclusion:
Economically China may be ahead of India, but when it comes to defend national boundaries from adversaries Indian Armed Forces can not only defend its border but can also inflict severe damage to China. According to some experts, India has a strategic edge over China, over the past two decades, India's defense preparedness has focused on tackling the dual threat from China and Pakistan whereas China has been engaged on many fronts including the security threats from the US in the South China Sea. Also considering the current geopolitical situation, India is in a pretty good position considering its relationship with the west, particularly the USA, and France who have stakes in Indo-Pacific, and other Indo-Pacific powers like Japan, Australia, South Korea, etc.
Its high time for India to strengthen its military, particularly it's navy and air force leveraging its partnership with the USA, and France. From the USA we can go for additional Chinooks, C130J super Hercules, joint development of drones, super hornets, and from France Rafales, conventional and nuclear submarine. Not to ignore the Indian army's demands for light tanks.
Speeding up the infrastructure projects across the border, as well as creating employment avenues for people living in border villages, providing basic amenities like drinking water, roads, electricity so on to encourage people to stay there, considering the fact that China is building dual-use villages near the border.