UN peacekeepers are often referred to as "Blue Berets" or "Blue Helmets" because of their light blue berets or helmets. The UN peacekeeping forces include soldiers, police officers, and civilian personnel.
Earlier the UN peace keeper were involved in maintaining ceasefire and stability in a country, but now they are also engaged to protect civilian, give medical aid, install the rule of law and conduct election in conflict zones.
ESTABLISHMENT
The United Nations peace keeping was established in 1948. The UN Peacekeepers are led by the Department of Peacekeeping Operations (DPKO).
The United Nations Charter gives the United Nations Security Council the power and responsibility to take collective action to maintain international peace and security. For this reason, the international community usually looks to the Security Council to authorize peacekeeping operations through Chapter VII authorizations.
HOW IT WORKS?
The UN charter makes the security council to maintain peace and security. It also seeks collective measures to prevent and remove threats to peace. The UN peacekeeping forces were formed to do this task of maintaining peace in armed conflict. Mandative by the security council, the peace keeping forces are authorised to engage in conflict between State and country torn by civil strike. However restoring peace in conflict zone take place only after both warring side is agreed to it.
The peacekeepers also provide medical assistance to the local community, helping strengthen the relationship with the community and complementing the already existing medical services provided by humanitarian partners such as International Medical Corps.
The UN operates peace keeping forces in two ways-
Unarmed Forces– These are unarmed or lightly armed military personnel from a number of countries. These forces are sent to areas were the warring parties is needed a neutral party to observe the peace process.
Armed Forces– Armed troops of the peace keeping forces are deployed in conflict zones. Their role is to maintain peace in conflict-torn regions.
EARLIEST MISSION
In the first mission, UN peacekeeping forces were sent to the newly created state of Israel to supervise ceasefire between Israeli and the Arab states.
In 1956, UN peacekeeping forces were sent to Suez crisis during the second Israel-Arab war.
In 1967, at the end of Korean war, the peace keeper forces remain outside the demilitarized zone until when American and South Korean forces took over.
In 1974, the UN deployed the disengagement observer forces at Golan Heights to supervise the agreed decision between Israel and Syrian forces.
In 1978, after the attack of Israel on Lebnon, the United Nations Interim Force in Lebanon(UNIFIL) was established to confirm that Israel withdrawal from Lebanon and restored national peace and security.
The UN peacekeeping forces also played an important role in Congo struggle for independence in 1960. Twenty thousand troops were deployed to restore peace in the war zone.
UN PEACEKEEPING FUND
Every Member State is legally obligated to pay their respective share towards peacekeeping. This is in accordance with the provisions of Article 17 of the Charter of the United Nations.
The approved budget for UN Peacekeeping operations for the fiscal year 1 July 2019 – 30 June 2020 is $6.5 billion. By way of comparison, this is less than half of one per cent of world military expenditures. The 2019-2020 budget represents an average of 1.9% reduction on the approved budget for 2018-2019
.The top 10 providers of assessed contributions to United Nations Peacekeeping operations for 2019 are:
| | | |
| --- | --- | --- |
| | COUNTRY | FUND |
| 1. | United States | 27.89% |
| 2. | China | 15.21% |
| 3. | Japan | 8.56% |
| 4. | Germany | 6.09% |
| 5. | United Kingdom | 5.79% |
| 6. | France | 5.61% |
| 7. | Italy | 3.30% |
| 8. | Russian Federation | 3.04% |
| 9. | Canada | 2.73% |
| 10. | Republic of Korea | 2.26% |
ACTIVE UN PEACEKEEPING MISSION
As of 2020, there are currently 13 active UN Peacekeeping Missions. These missions are spread across 3 continents; Asia, Africa and Europe. The highest number of peacekeeping missions are in Africa. Troops, police and civilian personnel for UN peacekeeping missions are contributed by more than 120 countries.
The 13 UN peacekeeping mission are as follows-
MINURSO – UN Mission for the Referendum in Western Sahara.
MINUSCA– United Nations Multidimensional Integrated Stabilization Mission in the Central African Republic.
MINUSMA– United Nations Multidimensional Integrated Stabilization Mission in Mali.
MONUSCO – United Nations Organization Stabilization Mission in the Democratic Republic of Congo.
UNAMID – African Union-United Nations Hybrid Operation in Darfur.
UNDOF – US Disengagement Observer Force (Syria/Golan Heights).
UNFICYP – UN Peacekeeping Force in Cyprus.
UNIFIL – UN Interim Force in Lebanon.
UNISFA– United Nations Interim Security Force for Abyei.
UNMIK – UN Interim Administration Mission in Kosovo.
UNMISS – United Nations Mission in the South Sudan.
UNMOGIP – UN Military Observer Group in India and Pakistan
UNTSO – UN Truce Supervision Organization(Middle East).
FORCES CONTRIBUTOR
Top 10 contributors of troops to United Nations peacekeeping missions, as of 30th June 2020
| | | |
| --- | --- | --- |
| | COUNTRY | PEACEKEEPER |
| 1. | Ethiopia | 6638 |
| 2. | Bangladesh | 6426 |
| 3. | Rwanda | 6322 |
| 4. | Nepal | 5640 |
| 5. | India | 5427 |
| 6. | Pakistan | 4450 |
| 7. | Egypt | 3126 |
| 8. | Indonesia | 2840 |
| 9. | Ghana | 2769 |
| 10. | China | 2534 |
SUCCESS STORIES
The establishment of the peace world wide due to its conflict resolution and peace keeping initiative, the number of people dying in conflict declined rapidly since 1945 world wide.
The UN peacekeeping forces that operated in Sierra Leone from 1995-2005 is also hailed as a success. It was created to help implement a peace agreement after the country demonstrating civil war.
The UN destroyed more than 42,000 weapons and 1.2 millions round of ammunition and disarmed more than 75,000 exfighter including hundreds of child soldiers.
Burundi also cited as a success stories for UN peacekeeping operations helping it recover from decades of ethnic conflict.
FAILURE STORIES
The UN peacekeeping organization was criticised for not doing enough to prevent the 1994 Rwanda genocide that led upto 1 million people death. The 1999 enquiry found that the UN ignored the evidence that genocide was planned and refused to act once it has started. More than 2,500 UN peace keeper were withdrawn after the murder of 10 Belgian soldier. The UN was accused of leaving Rwanda to its faith.
On 11th July 1995, towards the end of Bosnian 1992-1995 war, Bosnian Serb forces swept into the eastern Srebrenica enclave and executed 8,000 muslim men and boys in the day that followed dumping their bodies in pits. It was the worst massacre in post-second world war European history. The UN previously declared the town a safe area to be free from any armed attack. As Serb forces began shelling Srebrenica, Bosnian muslim fighters in the town asked for the return of weapons that they had surrendered to the UN peace keeper but their request were refused. The Dutch peace keeper were obliged to watch even as the killing began.
The UN peace keepers were also accused of paying women and young girls for sex and sometimes raping them in the democratic republic of Congo in early 2005. Subsequent report found there had been similar allegations from Cambodia, Bosnia and Haiti.
INDIA'S CONTRIBUTION IN UN PEACEKEEPING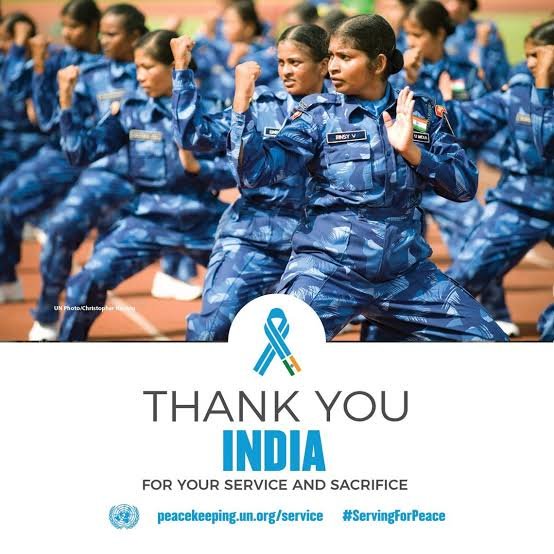 Ever since 1950, India has demonstrated a solid commitment to the efforts of the UN in maintaining global peace and security. Starting from its participation in the UN operation in Korea in 1950, India has contributed more personnel than any other country.
India is currently the fifth-largest contributor of military and police personnel in UN peacekeeping operations.
Currently, there are more than 6,700 troops and police from India who have been deployed to UN peacekeeping missions and 80% in Congo and South Sudan.
More than 240,000 Indians have served in 49 of the 71 UN peacekeeping missions established around the world since 1948.
India has a long tradition of sending women on UN peacekeeping missions.
In 2007, India became the first country to deploy an all-women contingent to a UN peacekeeping mission in Liberia in the wake of the country's brutal war.
The Indian peacekeepers serving in South Sudan have been awarded the United Nations (UN) medal for their service and contribution to building peace in the country.
India was also one of the first countries to send peacekeeper troops to Congo in 1960. 68 Indian soldiers have lost their lives in their line of duty in Congo.
India has lost the highest number of peacekeepers than any other country. According to the UN, 171 Indian peacekeepers lost their lives while serving the UN till 30th June 2020.