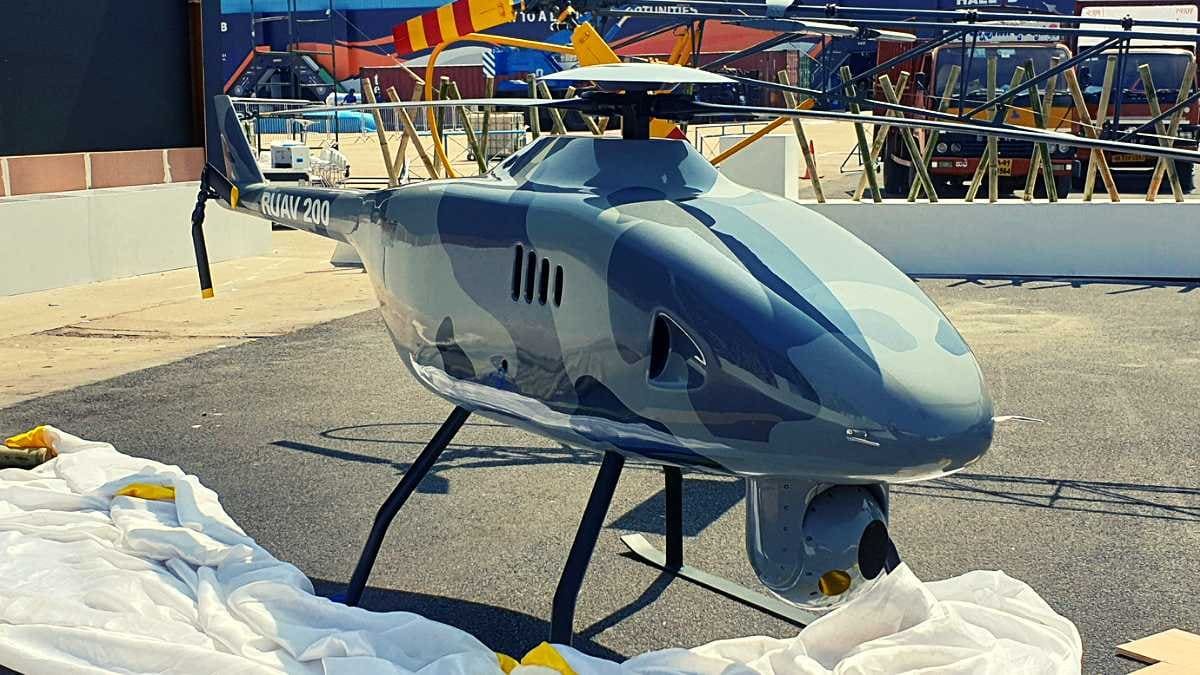 Hello defence lover! In this article, we are going to discuss the HAL's RUAV 200 that was displayed recently in Aero India 2021. We are going to look at its capabilities and analyse how it will benefit our armed forces.
What Is RUAV 200
RUAV stands for Rotary Unmanned Aerial Vehicle. The RUAV-200 is a coaxial rotor helicopter UAV being developed jointly HAL with DRDO's ADE and IIT Kanpur will be used primarily as a Mule Drone for High Altitude Logistics operations by the Indian Army. As per the information coming out after the Aero India 2021, the Indian Army wants to use RUAV-200 drone for transporting not only rations but also other important materials in unfriendly terrains.
The Requirement For A Mule Drone
In the Northern regions of our country, especially in Ladakh, at very high Altitude Areas, logistics are very challenging tasks. The supply lines in these tough areas are generally maintained either through helicopters, Porters, or Mules/local ponies. Mule drones will provide a more reliable supply chain route for provisioning troops based at High Altitude Areas. This will not only reduce the logistics cost but also ensure a steady supply of necessary items.
Propulsion
The RUAV 200 will most likely be powered by a Wankel Engine. A Wankel engine is a type of internal combustion (IC) engine using an eccentric rotary mechanism to convert pressure into rotating motion. Compared to the conventional reciprocating piston engine, the Wankel engine has more uniform torque and less vibration and, for a given power, is more compact and weighs less.
The tender documents for the propulsion system reveal that RUAV-200 will have an endurance of 180 minutes and Dry weight of the propulsion system would be less than 52kgs that would have a peak power output of 34 KW and continuous power output of 30 KW. The propulsion system would be capable of operating at a temperature ranging from -35 to +55 Degree Celsius.
Technical Specifications Of RUAV 200
According to HAL, RUAV-200 would weigh around 200 Kg when fully loaded with fuel and payload. It will be able to carry up to a maximum payload of 40kg over a range of 100Km. It would have a maximum service ceiling of 6000 meters which would enable it to drop essential supplies at the toughest terrains like the Siachen. It would have a maximum speed of 100 kilometres per hour and would have a maximum endurance of 3 hours. According to HAL, it would be able to take off, operate and then land without any interference of a remote pilot and can complete its mission autonomously with pre-defined waypoints.
The RUAV 200 will be fully autonomous and will have network-centric operations capabilities. It would be Capable of Conducting Day and Night operations. It is designed with a crashworthy structure. In case of any crash, its parts would segregate to reduce the impact and the damage. It would also provide real-time data along with video feed. It will also be equipped with interactive command and control.
The RUAV 200 will have its first flight by June 2022 and its design has already been fine-tuned for high altitudes operations and work on vendor selection and tenders for the engine have been issued.
Max-Take off Weight: 200kg
Speed: 100kmph @6km
Max Range: 100 km
Max Endurance 3 Hours
Service Ceiling: 6000m
Hover Ceiling: 5500m
Max Payload : 30-40kgs
Other Roles Of RUAV 200
Although RUAV 200 is being developed primarily as a mule drone, it would be a very versatile platform. It will perform a variety of Land-based, coastal based and sea-based operations
Land-Based Operations
The RUAV can perform reconnaissance missions thanks to its electro optical sensors. It can be used in monitoring of strategic ground assets along with target designation and tracking. It can be used in IED and landmine detection roles. It can also be used for land survey and terrain mapping. It could also provide valuable supplies in case of natural calamities in remote areas
Maritime Operations
RUAV 200 is suitable for a large variety of maritime roles. These include coastal surviellance, anti piracy missions, over beach and port monitoring, anti submarine warfare, radar and missile decoy and much more.
It can also be mounted with a number of different types of reconfigurable payloads which include Synthetic aperture radars, electro optical systems, infrared systems, electronic intelligence systems, communication intelligence systems, loud hailers, search lights, hyper spectrum imaging camera and much more
Further Development
The RUAV 200's platform can be further developed to an armed variant which would be able to carry machine guns, anti-tank missiles and rockets. Such a RUAV would provide close air support to group troops and can be used in missions which would be too dangerous for manned attack helicopters. These could be used as expendable assets to saturate enemy defence systems as well.
Overall this platform is very capable and would boost the capabilities of our armed forces by many folds.