Indian Air Force
Landmark War Operations Carried Out By Indian Air Force Which You Should Know
Hello Defence Lovers, No one can cast doubts if we say Indian soldiers stand tallest in war operations around the globe. Indian Air Force is one of the most formidable Air Force in the world. The stories of its valor, diligence, and bravery are capable of giving goosebumps. But behind this wall of pride, there are hardships, sacrifices that are invisible. Here, in this article let's take a closer glimpse of some major operations carried out by brave-hearts of the Indian Air Force. The operations which speak of valor and pride, the operations which make IAF unique and extraordinary of all.
Indo-Pak War Of 1947
Along with independence, India got a ghastly partition and a brief war with some militants of Pakistan. A full-fledged war took place when Pakistan attempted to annex Kashmir. Kashmir's then King Hari Singh asked the Indian government for military assistance. On 27th October 1947 three fighter jets of Airforce along with some civil aircraft landed on Srinagar Airbase. Although the Indian Air force was not assigned the combat role but it accomplished the task of transporting troops and weapons. IAF acted as a supporting arm and provided logistic assistance to the Indian Army. Along with the gifting defeat on the battlefield, Indian troops tried to make Pakistan realize that the annexation of Kashmir is not its cup of tea.
Operation Vijay
After the failure of talk and consensus with Libson, the Indian government decided to liberate Goa, Daman, and Diu from the Portuguese. All the three forces, Army, navy, air force launched the operation Vijay( meaning Victory) in December 1961. Indian Airforce embarked on its role by bombing the runway and thus destructing Goa's lone airfield in Dabolim. IAF destroyed the control tower, wireless station, all the outer connections, and interference of the Portuguese halted. Airforce also provided logistic aid to the land and sea forces. Within 36 hours of the strike, the Indian Military successfully captured Goa, Daman & Diu.
Indo-China War,1962
An unexpected war broke out in October 1962 followed by frequent skirmishes on the western and eastern Himalayan border. 10000-20000 Indian troops went ahead against the Chinese flock of some 80000. India's airlift capabilities were to be examined now because of the rough terrain and the sky-touching Himalayas. IAF defeated all odd to transport troops and supply material over tricky helipads and narrow airstrips. One of the major reasons for defeat in this war was the exclusion of aerial warfare. Indian Government and armed forces drew lessons from this war and worked upon defense modernization and warfare tactics. Afterwards, IAF strengthened its manpower, squadrons, weapons, and equipment. After this, there was no looking back and India never lost any battle yet so far.
Also read: A Year Since Galwan, IAF Remains Battle-Ready In Ladakh With Fighter Jets & Missile
Indo-Pak War, 1965
This was the first air-to-air battle between India and Pakistan. Indian Airforce fiercely retaliated to Operation Gibraltar of the Pakistan air force in Jammu & Kashmir. IAF's Hawker Hunter, Folland Gnats, de Havilland Vampires, EE Canberra Bombers, and a squadron of MIG-21 flew in the war. IAF raided several Pak airbases in Pakistan territory. Undoubtedly, Pakistan had American aid and technical superiority, but India succeeded to show its upper hand on the battlefield. The fact that IAF lost 58 out of 460 aircraft and Pakistan air force 43 aircraft of its 186 combat aircraft describes the veracious picture of the war
Bangladesh Liberation War, 1971
Saturation of repressions in erstwhile East Pakistan by West Pakistan rendered mass agitation in Dakha. India, without ado, went to war against the West neighbor to liberate her eastern and oppressed friend. PM's declaration and air action by the Indian air force on 3 December 1971 officially marked the beginning of the war. Pakistan Airforce launched pre-emptive strikes on Srinagar, Ambala, Sirsa, Halwara, and Jodhpur airbases. Indian air force retaliated and dominated the skies over both fronts. Apart from air combat, IAF went for troop support, deep penetration strikes, para-dropping behind enemy lines, bombing, and reconnaissance. Within two weeks, IAF carried out some 4000 sorties in the west and flew 1978 sorties in the eastern front. Metal birds like Gnats, MiG-21, and MiG-21FL demonstrated air supremacy in this operation.
IAF's brave Flying officer Nirmal Jit Singh Sekhon performed outstandingly against rivals. FOR this, he was posthumously awarded the highest gallantry award, Param Vir Chakra. This is the first and only PVC in all operations of IAF.
Operation Meghdoot
Siachen Glacier, the world's highest battleground, was the bone of contention due to vague demarcation. Being strategic and geographically important both India and Pakistan wanted its control. Operation Meghdoot was the code name given to the attack launched by the Indian army and air force to capture Siachen. II-76, An 12, and An 32 of IAF transported stores and airdropped supplies to the highest airfield. Also, Mi-17, Mi-8, Chetak, and Cheetah ferried troops and materials to dizzy heights. Then, Indians gained full sovereignty of Siachen and now our heroes guard this icy field of our motherland.
Operation Safed Sagar
Indian air force launched operation 'Safed Sagar' in the Kargil war between India and Pakistan in May 1999. Initially, IAF was restricted to the mobilization of troops, weapons, and supplies. Later, it undertook air strikes as well. However, It was the first time that any air war was carried out at this much height. Indian aircrafts MiG-21, MiG 29, Mi-17, MiG-25K, and Mirage 2000 involved in the operation. In spite of the mountainous region and adverse operating environment, IAF warriors ferried over dizzy skies and conquered them as well. On 11 July, Indian troops successfully recaptured the Tiger Hills in Kargil and marked the end of the war.
Also read: Shershaah Of Kargil: A Warrior Who Made Pakistan Cry
Operation Bandar
IAF launched airstrikes on the Jaish-e-Mohammed terror camp on February 26, 2019, to avenge the killing of 40 CRPF personnel in the Pulwama terror attack. A fleet of 12 Mirage 2000 fighter jets with SPICE 2000 bombs and 4 Sukhoi Su-30 MKI penetrated into Pakistan's hinterland and destroyed the terror camps in the Balakot region. Pakistan Air force scrambled with its F-16 fighter jets but could not engage Indian metal beasts. Balakot airstrikes were a clear message that India would not tolerate terrorism at any cost.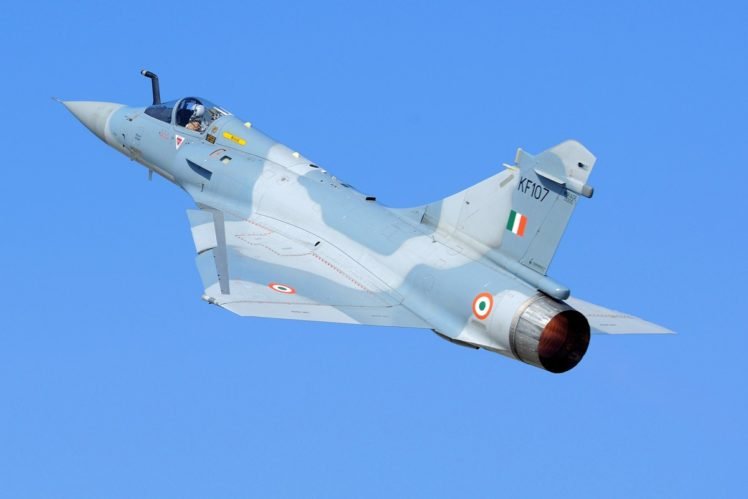 Since Uri surgical strike India has marked a paradigm shift in its defence policy. Time and again, IAF proves its ability to carry out remarkable operations. Indian Air force has been touching the sky with glory since independence and every Indian is proud of its valor, courage, and selfless spirit.