Indian Navy
TEDBF: Part-2 (Specifications and Question-Answers)
This is second article of our TEDBF series. As promised in last article, we will discuss some important aspects of TEDBF project. Also I will try to answer commonly asked questions and questions asked by our readers in comments.
Design And Specifications Of TEDBF-
General Features-
Length- 16.30 m
Wingspan (unfolded)- 11.20 m
Wingspan (folded)- 7.6 m
Crew- 1
Maximum take-off weight- 26,000 kg
Radar- Uttam AESA radar (planned)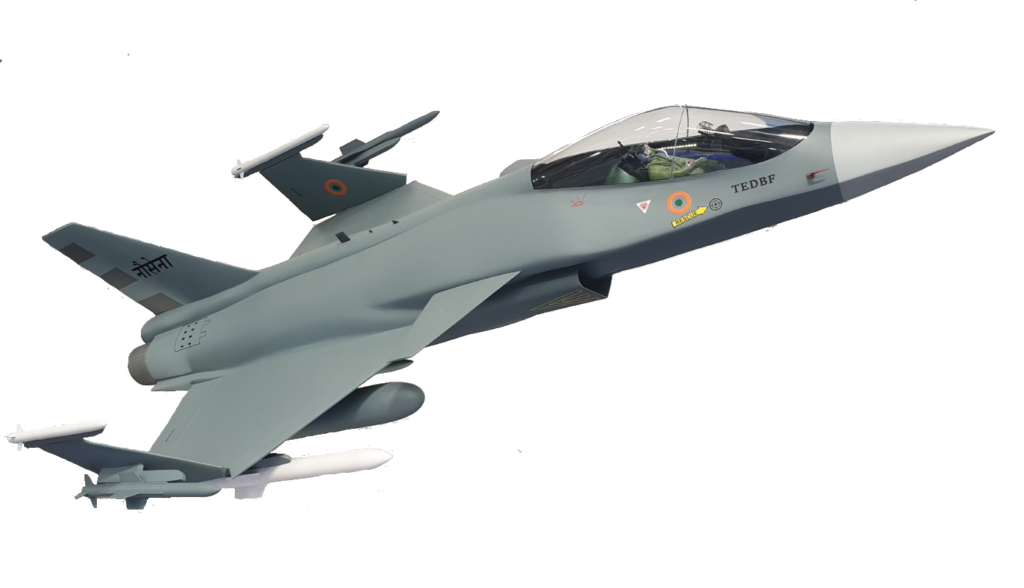 Performance Parameters Of TEDBF-
Maximum speed- Mach 1.6
Service ceiling- 60,000 ft/ 18,000 m
g limits- +8/-3
The basic design of TEDBF is based upon LCA Tejas. It will have a delta wing design. But many features are added as per the requirements of Indian Navy. These are as follows.
Foldable wings– To save storage space on aircraft carrier.
Canards will be added to enhance its maneuverability.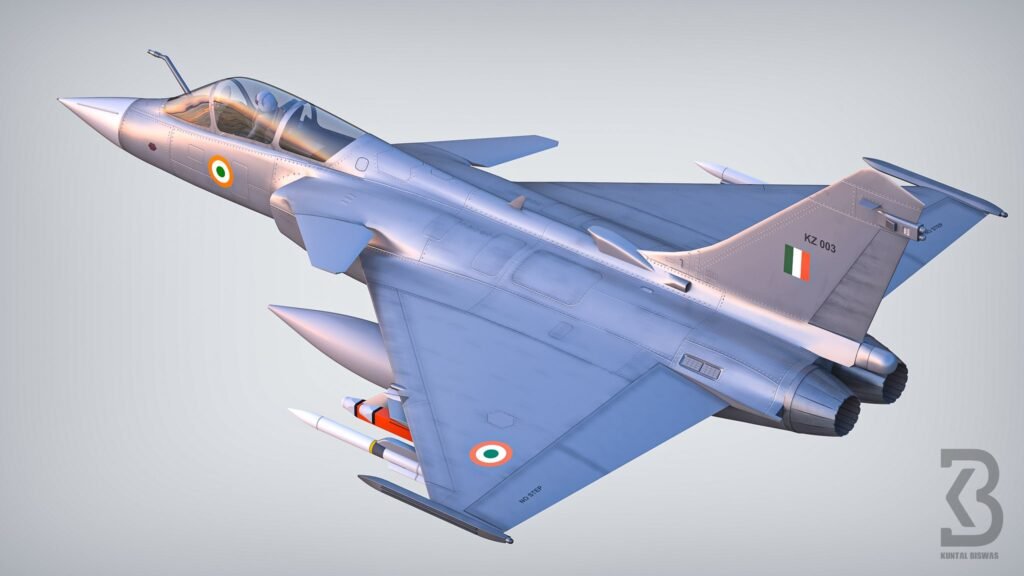 Buddy refueling– TEDBF will be able to perform mid air refueling for its buddy aircraft.
STOBAR type– TEDBF will be operating from INS Vikramaditya and INS Vikrant. They have ski-jump take off platforms. For this, TEDBF will have STOBAR (Short Takeoff but Arrested Landing) Capability.
In this system, fighter jet performs take-off on a very short runway using afterburners. While landing it uses its tail hook which is arrested in arresting wires to slow down fighter jet within a short distance.
Stealth profiling of frontal part– As per model demonstrated in Aero India 2021, stealth profiling is being done on frontal part of TEDBF. This will reduce its radar cross section and make it stealthier.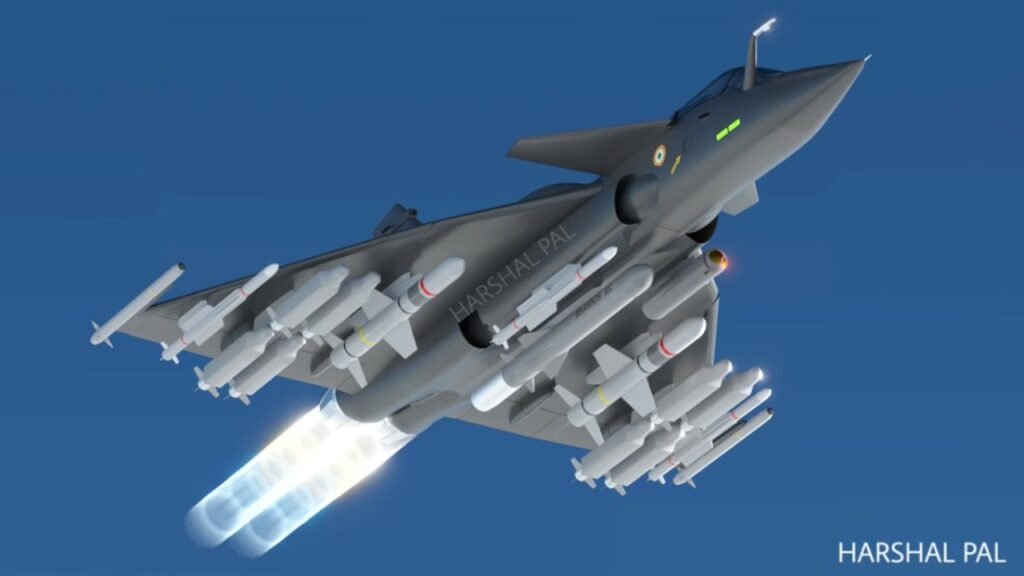 Perfect Balance Between Stealth And Maneuverability-
Stealthy design of frontal part and canards is a rare combination. As we know, that stealthy 5th generation fighters don't have canards as they increase radar cross section and reduce stealth.
(However some exceptions are always there. There is a so called 5th generation fighter that hascanards! You may have got which country has achieved this technological wonder.)
However in case of TEDBF mixture of these two helps it achieve a great balance between these two aspects. (We don't claim this as a 5th generation fighter. It is a 4.5 generation fighter).
Engines– As evident from its name, TEDBF will be a twin engine fighter jet. Initially General Electric's F-414 engines will be used. It can create thrust of 98 kN with afterburner.
Generally Asked Questions About TEDBF-
Q1. Why Navy is considering of taking FA-18 or Rafael-M on lease when we are developing indigenous TEDBF?
The answer lies in the timeline of the project that we discussed in last article. Navy will start getting TEDBF from 2031 onwards. Till then there will be a critical gap for 10 years. Navy is considering this deal to fill up this gap. These fighters will be taken on 10 years lease.
Q2. Will There Be An Indigenous Engine In TEDBF?
The initial prototypes will be developed with GE-414 engines. But India is also going to develop its indigenous engine in collaboration with a foreign partner, most probably Rolls-Royce.
This engine can be ready around the time when TEDBF goes into production. So this engine may be used in production variant of TEDBF.
Q3. Why Navy rejected naval variant of LCA Tejas and Tejas mk2?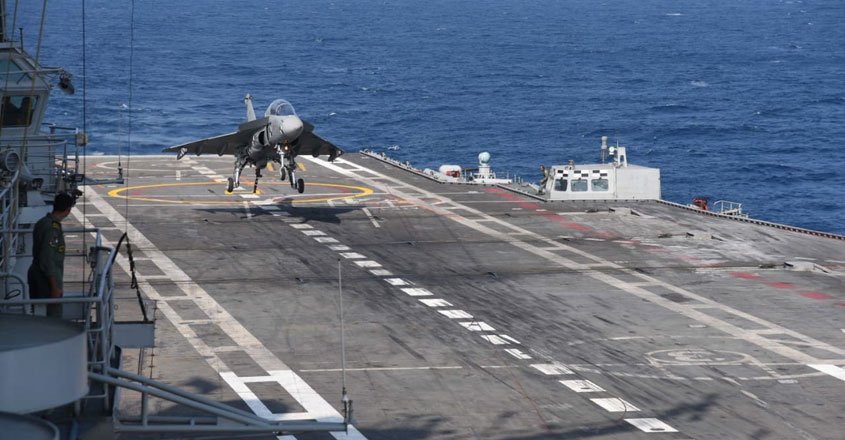 As discussed above, Navy requires a fighter jet of STOBAR variant. This type of fighter consumes lot of fuel in a short take-off due to its afterburner. So it has to carry more fuel. This limits the payload capacity and fighter jet carries limited weapons. Also LCA Tejas was a single engine aircraft which couldn't give the required thrust.
But development of naval LCA and its successful trials have equipped HAL, ADA and DRDO with valuable experience. This will be helpful while working on TEDBF.
Our reader Rahul Prasad has asked following two questions-
Q4. Are ORCA and TEDBF aircraft the same? If not what could be the need of ORCA?
TEDBF and ORCA are not the same. ORCA will be the Air Force variant while TEDBF will be the naval variant.
ORCA is needed for requirement of IAF in twin engine medium weight category. Current IAF is inducting Rafael in this category. Tejas mk2 will also be a medium weight fighter but it's going to be a single engine aircraft.
However there are not much updates about ORCA program as of now. This leaves a space for doubt whether any serious work on this program is going on or not?
Q5. Will there be a naval version of AMCA?
There was option of developing naval AMCA. But it was cancelled due to following reasons. Alpha Defence has explained this in one of their videos.
AMCA has internal weapons bay with capacity of carrying 4 Air-to-air missiles/ bombs. But Navy requires a fighter with capacity of carrying 6 missiles and endurance of 2 hours.
AMCA can be modified with external hardpoints to carry additional missile and external fuel tanks. But this will compromise its stealth. So there is no point in operating an expensive5th generation fighter without its stealth features.
Anirudh has asked following 2 questions-
Q.6 Why India's Rafael is so special compared to France's Rafael?
IAF's Rafaels have got some India specific enhancements. Some new technologies and some existing technologies that are not used by French Airforce but used by Indian Airforce are added. Since this article is about TEDBF, we will talk about this in detail in another relevant article.
Q7. What is blue water Navy?
Blue water Navy is a Navy capable of operating at high seas i.e. far away from the shore. Indian Navy is blue water Navy in this sense as it operates in a vast area of Indian Ocean.
Q8. Rahul has asked Can we deploy TEDBF permanently at Andaman and Nicobar islands?
Andaman and Nicobar are also called as the 'unsinkable aircraft carrier' of India. The question might be inspired by this concept. But we have to understand that these islands are actually NOT an aircraft carrier. They have full runways and airbases just like any other ground based airbase.
The difference here is that they are surrounded by sea. So the majority of operations launched from here will be maritime reconnaissance and maritime strike. So it's more logical to deploy IAF fighters with anti ship and maritime strike capability.
IAF has already deployed maritime Jaguars on Andaman and Nicobar Islands.
Also a carrier based fighter has some special enhancements. They are made stronger to sustain shock arising from arrested landing. This increases weight and compromises maneuverability. Also foldable wings and tail hook are added. This also increases the cost. So there is no point in deploying such enhanced fighters on ground airbases permanently.
However they can be moved in time of contingency. Last year MiG-29Ks of Navy were moved to northern airbases during standoff with China.
Conclusion-
Overall, TEDBF is going to be a very good fighter aircraft. This will be much better than MiG-29K in terms of technology and capabilities.
Indian Navy chief has already described it as "the future of India's Naval aviation".