Indian Navy
India Conducts PASSEX to Counter Chinese Presence In the Indian Ocean.
Recently India Navy and US Navy held PASSEX I.e. passing exercise near Andaman and Nicobar islands. This was an important development during the ongoing stand-off in Ladakh between India and China. Let's understand what is Passex, what's the importance of its location, and how by Passex, India warns China in the Indian Ocean.
PASSEX is an exercise between the Navies of friendly nations. Its aim is to enhance interoperability, understand each other's way of operating, and sharing the best practices. It can help when both navies have to operate jointly in any mission. Recent exercise was held with US Navy's carrier strike group led by USS Nimitz. USS Nimitz is the largest aircraft carrier of the US Navy. Indian Navy's four frontline warships.
Significant Location-
The exercise was held off the Andaman and Nicobar archipelago, close to Malacca straight. Andamans holds great strategic significance for India in the India ocean. Many experts call this archipelago as the unsinkable aircraft carrier of India. It has India's first tri-services command, the Andaman and Nicobar command set up in 2001. Also there are many crucial naval stations such as INS Shibpur, INS Baaz, and INS Kohasa. India Navy and Air force operate a variety of aircraft from here. These include P8I and Dornier maritime surveillance aircraft. Several fighters including Mig-19s and Jaguars.
Its crucial location gives India immense capabilities of surveillance, reconnaissance, and launching maritime and air operations in the region. In fact, the Indonesian archipelago is closer from here than India's mainland. The Sumatra island of Indonesia is just around 250 km from Car Nicobar. Due to this India has strategic dominance over the Malacca straight which is a possible vulnerability of China.
China's "Chicken neck" !
The "Malacca dilemma" of China is a term used by strategic experts. It's because of China's vulnerability here. Around 80% of China's oil imports and the bulk of its exports pass through Malacca strait. If India blocks this checkpoint, it will cause a severe blow to China's energy security and economy. Thus if the balloon of India China war goes up, India will always have this option at hand.
China's vulnerability is intensified by some crucial circumstances. Malacca Strait is a narrow and shallow strip of water. Few people know the fact that every submarine has to come to the surface in order to cross it. This easily exposes them. On the other hand, India's P8i hunters are in a dominant position. Thus there is a clear limitation to Chinese summaries operating here. Another fact is India has natural dominance in the Indian Ocean region. It is hard for China to match it. Further India's active engagement with its allies here makes China more vulnerable. Thus by Passex, India warns China.
But we should not ignore the fact that China is building its capacities here at a fast pace. It's making naval Basel like Djibouti, Gwadar, etc. It's also testing new technologies like underwater drones. There were reports of its operations in the Andaman sea in April. So India should also focus on building such capabilities along with enhancing conventional strength.
Also read- What China is doing in South China Sea
What next?
The situation at LAC in Ladakh is still volatile. The ongoing stand-off may be drawn into a long haul. If the situation gets hot, India should be ready to respond in every possible way. For this India is strengthening its power in Andamans. Recently the government also announced some plans. Defence infrastructure is going to get a boost here along with economic and civilian infrastructure. This includes upgrading of existing airstrips, infrastructure for hosting additional troops, etc.
'Malabar' at Andamans?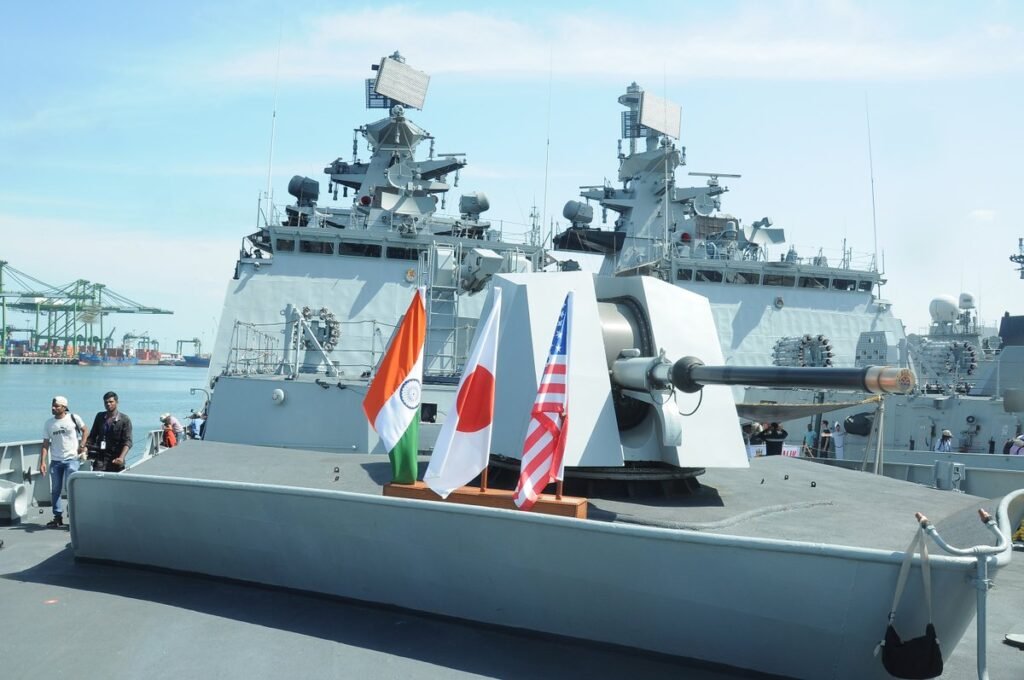 Malabar is a trilateral naval exercise between the US, Japan, and India. There have been talks about including Australia in it for a long time. Also reports have confirmed that Australia is going to participate in Malabar this time making it a quadrilateral exercise. This will be a crucial step forward in the policy of containing China. Some experts are speculating about its possible location at Andamans. If it happens this way it will be a direct message to China to behave itself.
(adsbygoogle = window.adsbygoogle || []).push({});