Even during the raging pandemic, India's defence export hasn't seen much damage. In fact, there has been positive and negative developments in the Indian defence production and export scene. Let's break down the numbers and what's to come next!
Defense export during 2015-2020 grew at a Cumulative Annual Growth Rate(CAGR) of 35 percent. This was up from around Rs 2,000 crore to Rs 9,000 crore.
Ambitious target of Rs 35,000 crore till 2025 has been set by Ministry Of Defence for defence export.
The push is to become part of global defence value chain. And therefore, eventually become one of leading nations in defence sector. In 2020 report of Stockholm International Peace Research Institute (SIPRI), regarding global arms exporters, India stood in 23rd position. This year, India has jumped to the position of 19th.
Exports of indian defence equipments from major defence platforms to small arms components are bought by nations all around the world with high interest. Be it Asian, European, Latin American, North American, African or SAARC nations, countries have shown prime interest. Currently more than 84 countries are recipients of defence items exported from India.
Popping Numbers
The data, which is partly based on the value of export authorisations issued to private-sector firms, shows that India's defence exports increased in fiscal year (FY) 2019–20. But then declined in FY 2020–21, which ended in late March. Indian defence exports in FY 2020–21 were valued at INR84.34 billion (USD1.14 billion). This is a 7.5% decline against the INR91.11 billion recorded in 2019–20.
Indian defence exports declined by 7.5% in FY 2020-21 to INR83.34 billion compared to FY 2019–20 (Indian MoD). The FY 2019–20 figure was a 9.5% increase over the INR83.20 billion in sales recorded for FY 2018–19, which itself was a jump of nearly 80% over the INR46.82 billion in exports posted in FY 2017-18.
Market share
The data also attributes the majority of sales in recent years to the private sector.Sales from state-owned defence public sector undertakings (DPSUs) and the network of 41 defence factories under the Ordnance Factory Board (OFB) have remained below INR10 billion in the past three fiscal years.
Private-sector sales – based on export authorisations – were valued at INR72.71 billion in FY 2020–21 and INR80.07 billion in FY 2019–20, representing 86% and 88% of total exports in those two years respectively, with state-owned enterprises securing the remainder. In FY 2018–19 private-sector export authorisations were valued at INR73.87 billion: 89% of total international military sales in that year.In FY 2016–17 and FY 2017–18 sales from the state-owned enterprises were worth 87% and 32% of total exports in those two years respectively.
Important Defence Equipment Exported During Last 5 Years Include:
1. weapon simulator
2. Tear Gas launchers
3. Alarm monitoring and control
4.Night vision binoculars and monocular
5.Torpedo launching mechanism.
6. Armoured protection vehicle
7.Weapon locating radar
8.HF radio
9. Coastal surveillance radars
And much more. While, other defence assets have been granted to be produced by Indian companies.
Growing Expectations
India is one the largest importers of arms globally. According to estimates, indian armed forces are projected to spend around USD 130 billion in capital procurement in the next five years. However, the government now wants to reduce dependence on imported military platforms and decided to support the domestic defence manufacturing. Therefore, defence ministry plans to put 101 defence items (artillery guns and assault rifles) under import embargo to offer potential military hardware manufacturing opportunities to the Indian defence industry.
In February 2020, Defence Minister Mr. Rajnath Singh at Aero India 2021 announced to reduce defence imports by at least US$ 2 billion by 2022.The defence ministry estimates potential contract worth ~Rs. 4 lakh crore (US$ 57.2 billion) for the domestic industry in the next 5-7 years (2025-2027).
Key Reforms To Boost India's Defence Export In The Past 5-6 Years
a. Standard Operating Procedure (SOP) for the export of munitions items has been modified to diversify options.
b. A complete end-to-end online based portal has been developed for receiving of orders. Processing of export authorisation permission is done through the portal. To increase the process, all the applications submitted are digitally signed and the authorisation is conveyed digitally.
c. Powers have been granted to Director–general Ordnance Factories (DGOF) , DRDO and Chairman And Managing Director (CMD's) of DPSUs for exploring export opportunities on global tenders.
d. Organising webinars to boost defence exports with Friendly Foreign Countries (FFCs) under the aegis of Department Of Defence Production(DDP) . Complimented by active participation from Indian defence industry.
e. Formation of a separate cell called Export Promotion Cell in Department of Defence Production. This will work to coordinate export related work like enquiries from various nations, facilitating both private and public sector companies for promotion of export and etc.
f. Government has also notified an Open General Export Licence (OGEL). This is a one time export licence. OGEL will allow the defence industry to export specified items to specified destinations specified in OGEL. Therefore, without seeking export authorisation, company can export during the validity of the OGEL.
g. For intra-company business, earlier requirement of getting End User Certificate (EUC) from the government of importing country, has been scrapped. Furthermore, "buying" company is empowered to issue EUC. This form of transaction is especially relevant for outsourcing of work by defence related parent company abroad, to its subsidiary in India. Therefore easing the process of transaction.
Subsequently, DPSUs have been asked to earn at least 25 percent of revenues through exports alone.
Government Initiatives For Future
The 'Defence Production and Export Promotion Policy 2020' has been formulated by the Government. So as to provide impetus to self-reliance in defence manufacturing under the 'Aatmanirbhar Bharat' scheme .
Encouragement for more participation from start-ups and micro, small & medium enterprises (MSMEs) in Defence Research & Development (R&D) has been promoted. For this purpose the Defence Minister Mr. Rajnath Singh released a new version of 'Defence Research and Development Organisation (DRDO) Procurement Manual 2020' on October 20, 2020.
Private sector is important for India to realise the set target by 2025. This is evident in the fact that in 2019-2020 more than 85 percent of indian defence export authorisation were given to the private sector. Also, till 2020, almost 500 Industrial Licenses(ILs) have been issued to about 300 private sector companies. According to one senior editor in the Economic Times, 95% of our defence exports were being routed through the Private-sector
Infrastructure
There are plans to establish new infrastructure including a defence park in Kerala to manufacture defence equipment for the armed forces. The project is aimed at promoting MSMEs and boosting the 'Make in India' initiative. The two Defence Corridors set up in Tamil Nadu and Uttar Pradesh would be specifically targeted by providing additional support as well as by offering higher multipliers for offset discharge for investments flowing into the Defence Corridors.
In November 2020, the Department of Defence, in partnership with the DGDE and Armed Forces, established a land management system (LMS) as part of efforts to enhance the overall defence land management.
Investment Promotion, FDI & Ease of Doing Business
To increase defence manufacturing in India and make the country a reliable weapon supplier to friendly countries, the Indian government allowed the following FDI limits in September 2020:
1.For new licensees – FDI allowed up to 74% through automatic route; FDI beyond 74% would need to be permitted under the Govt. route.
2. For existing Licensees – Infusion of new foreign investments up to 49% can be added by making declarations of change/transfer within 30 days.
India has also explored the option of offering better financing terms to other developing countries. The hope is that if we offer better terms, maybe we could entice a few of these nation-states to consider buying from us. Thus, creating a win – win situation for all parties involved. Lower income countries are a great target for us. They lack the expertise to produce sophisticated defence systems indigenously, and they can't afford to import defence equipment from Western countries.
Aero India and Defence Expo
Defence Expo and Aero India will be positioned as major global events to showcase India's capabilities in defence manufacturing, and also to encourage exports.
In February 2021, Defence Research and Development Organisation (DRDO) handed over Licensing Agreements for Transfer of Technology (LAToT) for 14 DRDO developed technologies to 20 industries at Aero India 2021. There was signing of 128 MoUs, 19 ToTs, 4 handing overs, 18 product launches and 32 major Announcements, totalling a grand figure of 201 feats. Further, 45 MSMEs participating in Aero India 21 have bagged orders worth INR 203 Crore. .
Increasing Global Tenders
In order to boost the domestic defence sector manufacturing, the Ministry of Defence, in December 2020, approved the export of an indigenously-developed surface-to-air Akash missile system. Additionally, a panel has been set up to ensure faster approvals for acquisition proposals by various country
According to one report in the Financial Express, the Indian government seems to be stepping up efforts to export the indigenously developed Light Combat Aircraft 'Tejas' to countries like Malaysia, Indonesia and Sri Lanka.
Besides this, the Defence Research Development Organisation (DRDO) also has a list of 152 defence items specifically curated for sale to friendly nations, especially the ones located in the Indian Ocean Region and Africa. The list includes some of India's most potent weapons like the supersonic cruise missile Brahmos, the Advanced Towed Artillery Gun System (ATAGS), Pinaka multi-barrel rocket launchers and many more.
Future
In August 2020, the 'First Positive Indigenisation' List comprising 101 items was notified, in pursuance of Government's endeavor of 'AtmaNirbhar Bharat Abhiyan' and to boost indigenisation in the defence sector. And recently, the "second positive Indigenisation" comprising of 108 items has been notified.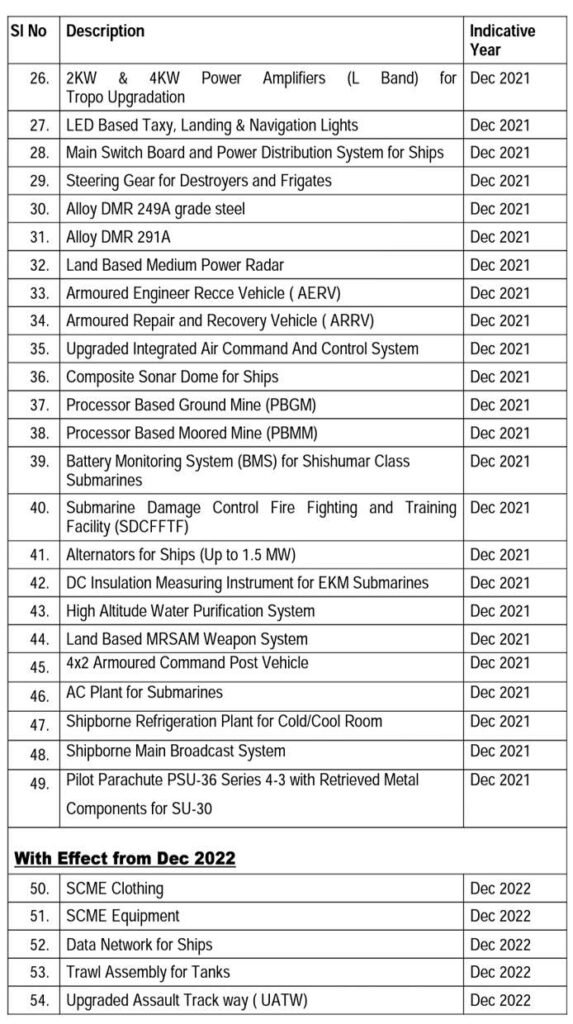 Now during pandemic Indian export has taken a hit. But this will be short-lived. Because the government is regularly introducing new ways to provide better thrust to both public as well as private players.