A British F35 fighter jet has crashed into the sea during a routine operation in the Mediterranean, the Ministry of Defence has said. The pilot ejected and has safely returned to the Royal Navy aircraft carrier HMS Queen Elizabeth and an investigation has begun, the MoD added.
The incident occurred at 10:00 GMT over international waters and no other aircraft were involved. The MoD said it would be inappropriate to comment during the investigation.
Defence Secretary Ben Wallace said the jet came down soon after take-off. He said: "We are pleased the pilot is safe and well and back on board."
Mr Wallace added that operational and training flights onboard HMS Queen Elizabeth are continuing despite the incident. There are eight UK F-35Bs on the carrier and 10 from the US Marine Corps. They have conducted around 2,000 take-offs and landings onboard HMS Queen Elizabeth without any major incident over the past six months.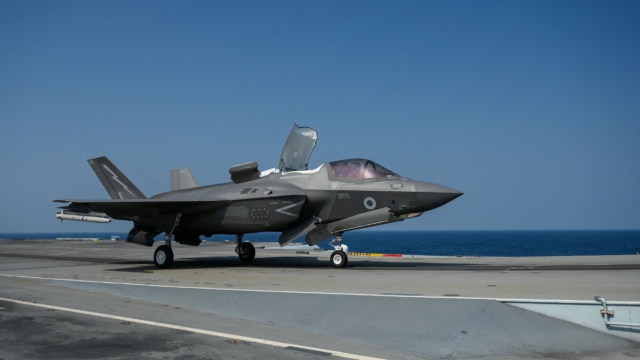 The aircraft are Britain's most advanced and expensive jets. Costing almost £100m, they can land vertically, similar to the Harrier Jump Jet, and combine radar-evading stealth technology with supersonic speeds.
Also Read: Understanding Vertical Take-Off and Landing (VTOL)
With the pilot had ejected and now back on board, efforts now will be to recover the jet, each of which costs around £100m. The F-35 is packed with highly sensitive technology and data.
The US-designed stealth jet – hard to detect on the radar – is one of the most expensive defence projects undertaken by the American military. This is the first time a UK F-35 has crashed, but there have been several involving US jets.
In 2018 the Pentagon briefly grounded its entire fleet of F-35s after the discovery of problems with the advanced fighter's fuel tubes. Those had been resolved.
An investigation is already underway into why the British jet came down. With no other aircraft involved or hostile actions that investigation is likely to focus on a technical failure or potential human error.
Jets from HMS Queen Elizabeth previously participated in strikes against the remnants of the so-called Islamic State in Iraq and Syria. The 65,000-tonne Royal Navy flagship is returning to the UK from its maiden deployment, which included exercises with the Indian military.
It was part of the carrier strike group's deployment to the Indo-Pacific region amid heightened tensions with China. The F-35s are operated by the renowned 617 Squadron, known as the "Dambusters".
Built by the US firm Lockheed Martin, the UK's F-35s are the B variant of the jet and are flown by pilots from the Royal Air Force and Royal Navy, based at RAF Marham in Norfolk.
Foreign Secretary Liz Truss spent time on board the vessel last month on the final day of her two-day visit to India.